Becoming a young woman is an exciting event that should have a memorable celebration, a quinceañera party. Planning for a Quinceañera can seem overwhelming with so many things to do, but following a quinceañera planning checklist can make the process go faster and smoother.
It's best to start up to a year before the quinceañera if you have an extensive quince checklist. Many families hire a quinceañera party planner to simplify the process. If you want to save money, this quinceañera planning guide will help you create a dream quinceañera party for the birthday girl without hiring a planner.
1. Establish a Budget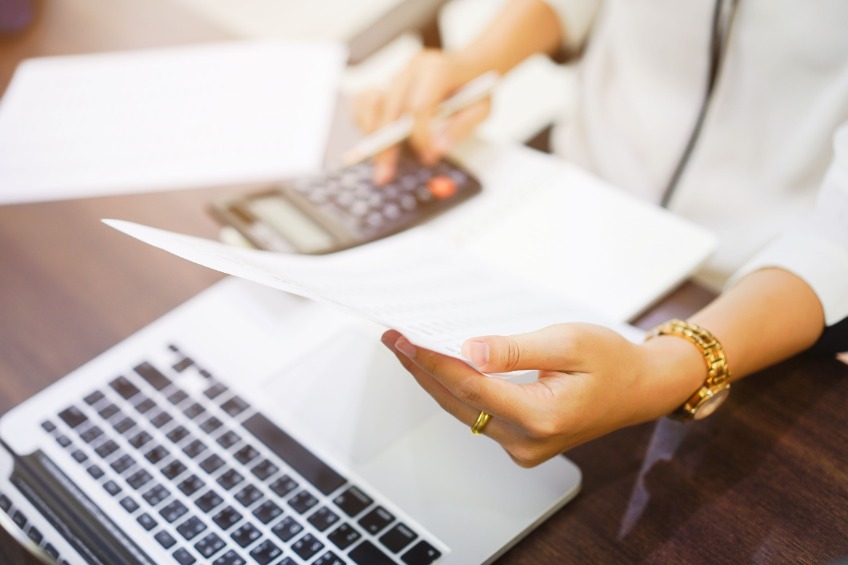 The first step to planning an ultimate quinceañera party is establishing a budget. Does the birthday girl want something simple or an extravagant party? Consider:
The desired theme
How much money you'd willingly spend
The number of friends and family members you wish to attend
You'll also need to allot for minor expenses or last-minute changes of plans. Some families save money by hosting the entire event themselves.
2. Choose an Event Date and Venue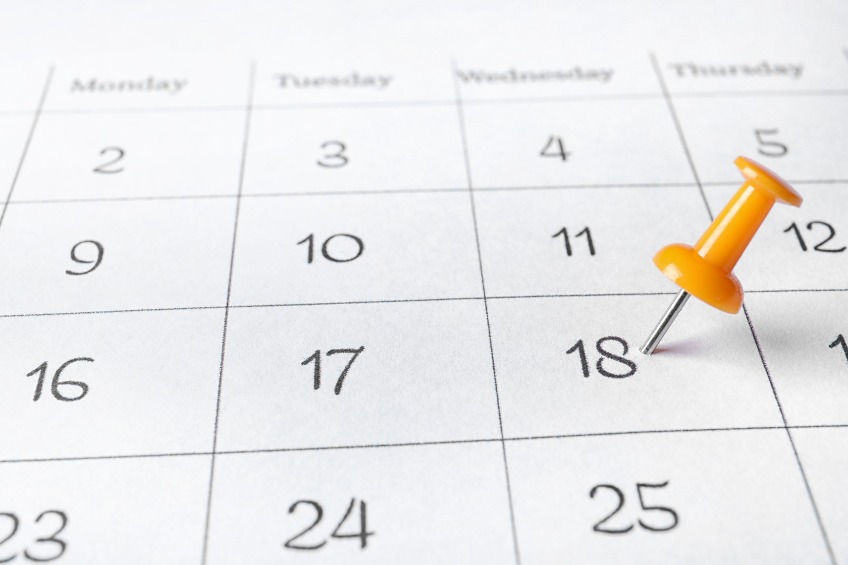 The next step to quince planning is to select the perfect venue and date for the big day. Banquet halls are a top choice for many, as some have a dance floor.
Planning a quinceañera doesn't have to be expensive. A small guest list warrants a small venue. No matter how you celebrate, creating an intimate family gathering or a lively celebration with plenty of fun and food is possible.
Your venue should have experience as a host for quinceañera parties. Select a location ideal for the ceremony and the reception to increase savings.
At Platinum, our all-inclusive banquet hall, offers customizable amenities such as a spacious dance floor, state-of-the-art lighting, and an open ballroom, giving you the ability to bring your quinceañera vision to life.
3. Contact Guests And Vendors
After you decide on a date and venue, it's time to:
Reserve the venue for the special day: The earlier you secure your venue, the sooner you can send out invitations.
Create a guest list and confirm their contact details for invitations: Send out invitations six months before the event. Double-check with all attending guests to see if they need lodging accommodations.
Contact vendors: Schedule vendors that you may want for entertainment, ceremony hosting, photography, cake, flowers, and other fun well ahead of time. Luckily, our all-inclusive banquet hall offers delicious catering where you can choose from an array of dishes, creating your own menu using only the freshest ingredients.
Select friends and family for your court of honor: These individuals typically perform a waltz and a surprise dance at the quinceañera party. Padrinos don't need to be married to each other, but your church may prefer it.
4. Shop For Dresses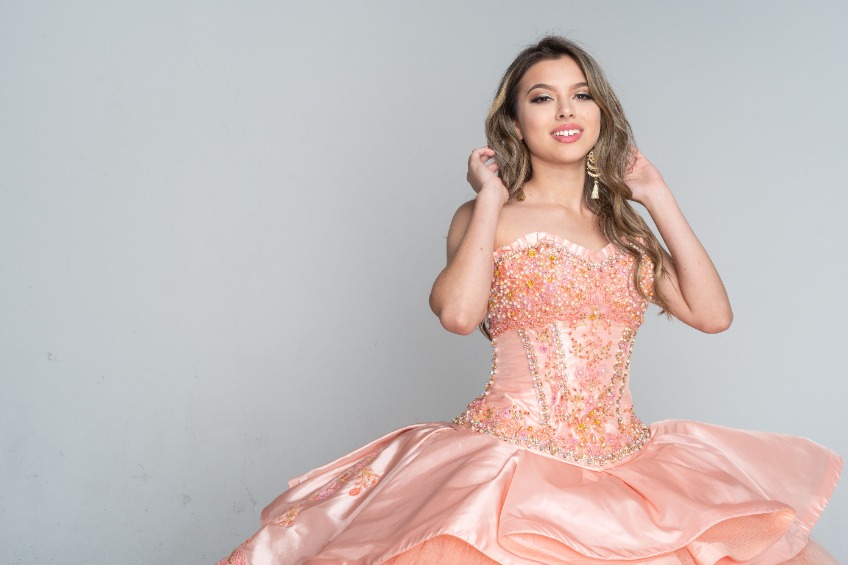 Dress shopping is an essential step in the quinceañera preparation process. This moment is iconic for a young lady, and she should pick a dress that she feels comfortable and beautiful in.
If your planning includes paying for your court of honor's dresses and tuxedos, it's a good time to do that. Damas and chambelanes may have a separate fitting appointment or get attire at the same time as the birthday girl.
5. Begin Court Rehearsals
Quince court dances typically feature 14 couples of the closest friends and family members, so it's essential to begin rehearsals around six months before the actual event. The Quinceañera may select a smaller court than this. Court rehearsals include a traditional waltz, surprise group dances, and a dance between the father and Quinceañera.
Practicing the quince at home alone and as a group will help the Quinceañera and the rest of the court memorize them well. A dress rehearsal in the final party attire will help them get comfortable with dancing. It can be helpful to provide refreshments at the rehearsal to show your gratitude to the individuals.
6. Decorate With Party Favors And More
A vital step in your quinceañera planning checklist is finding the perfect decorations and quinceañera party favors that match the set theme and color scheme. Consider schemes that match the current season or go with the birthday girl's favorite decor. Make your own decorations to save money, or purchase decoration rentals.
Depending on the style and theme of your party, you have many options for decor. Decorating the venue with flowers, photo booths, balloons, and more is common. Depending on your budget and priorities, you can tailor your reception to be as vibrant or simple as you wish.
7. Update And Book Additional Vendors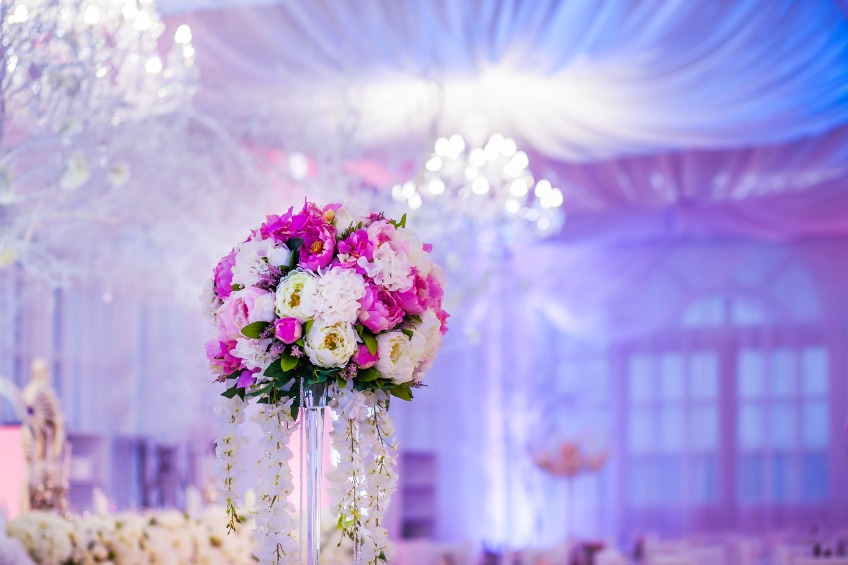 In addition to sending out last-minute party invitations, you'll also need to update your scheduled vendors if there are any changes. You should also do this if you haven't already booked a florist, hair and makeup specialist, or hotel rooms for out-of-town guests. You should know when they will arrive and ensure that each can still attend.
8. Discuss with Padrinos and Religious Leaders
It's essential to discuss quinceañera planning with padrinos and religious leaders. Padrinos may contribute to your budget to help make your big day special. Discuss any contributions they can make and confirm with them on selections for jewelry and thank-you gifts for guests you wish to honor.
Many families hold a religious ceremony in church as part of the quinceañera celebration. You'll need to speak with religious leaders to ensure they can perform a Quince mass.
9. Choose A Theme
One of the key steps to quinceañera planning is choosing the event theme. Choosing a quinceañera theme can be an exciting but challenging process. There are many different options to consider, from choosing a particular color scheme to picking out a set of festive decorations.
Ultimately, there is no single "right" way to choose a quinceanera theme – it's all about finding something that feels authentic and exciting for you! Regardless of what theme you choose, Platinum banquet hall ensures that your vision is brought to life.
10. Finalize Quince Dance and Other Aspects
In the final weeks before the big event, the last aspects you'll need to organize and finalize include the final quince planning, all church attendees, music selections, theme decorations, dress options, and other last-minute elements. You should pay vendors before the party and tell them the order of events for the entire quinceañera.
Bring Quinceañera Planning to Life with the Professionals
At Platinum Banquet Hall, we make quinceañera planning easy by providing you with the perfect location and professionals to help you celebrate in style at an affordable cost.
Our services not only give you a beautiful venue for your quinceañera but also streamline the quinceañera planning process and help you avoid contacting multiple locations for catering, entertainment, and other details.
We have significant expertise with quinceañera parties. Our hands-on team is there to help you every step of the way, making the process smooth and stress-free. Reserve our venue for up to 400 people when you call 818-672-2626.