For many brides, saying "yes" to the dress is one of the most stressful aspects of wedding planning. It's certainly going to be more difficult than finding the perfect suit for the groom. You want every detail in the dress to be exactly perfect. Unless you've been wedding dress shopping before or you have some experienced friends helping you out, there are definitely some things you should know beforehand. At Platinum Banquet Hall, we've seen so many stunning wedding dresses that we wanted to offer some guidance for future brides. Read on…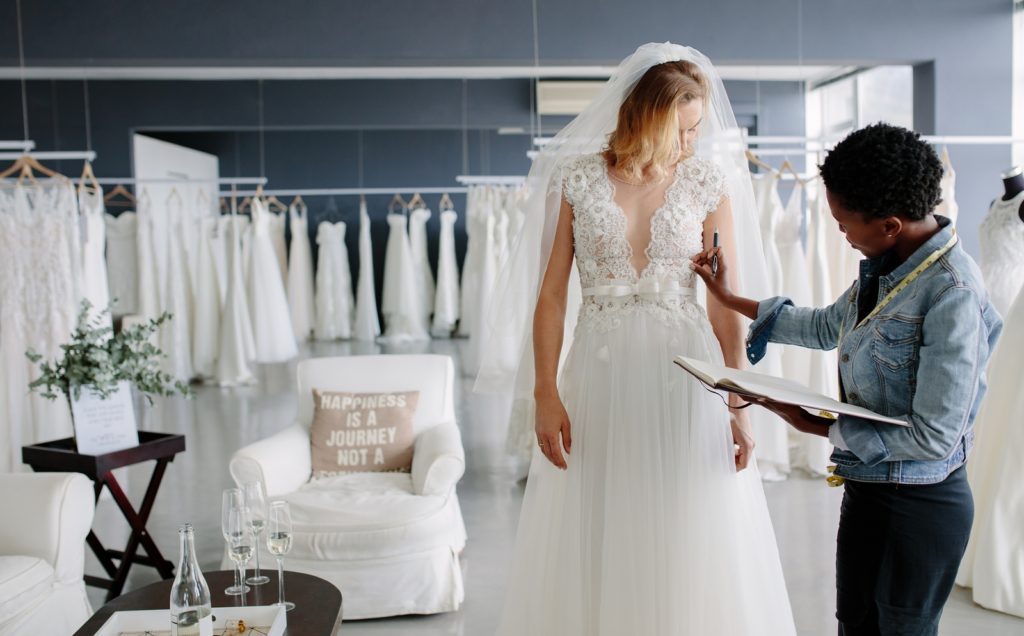 1. Pricing
Every place you go will be different, of course. It's important to know that you'll be able to bargain on the price at some locations, while at others they won't budge an inch. When you're interested in a specific dress, ask about pricing to see if you can bargain a little bit. After all, every dollar counts!
It's also important to make sure to ask about alterations. Some places may include the alteration pricing in the dress, while others may not. It's important to determine this beforehand so that you're not surprised by a completely different (much higher) price than you expected.
2. Be Aware Of Who You Take With You
Most brides will bring a group of friends and family with them during wedding their dress shopping. This can be fun, since it can turn into a whole event with loved ones. However, it's very important that you are aware of who you're inviting. You'll likely ask your mother, sisters (if you have any), and a few friends (perhaps some of them are bridesmaids or the maid of honor).
They're all going to have their opinions of each dress. This is good and bad. The more people you invite, the more opinions there are going to be for each dress you try. If some are really opinionated, this can get out of hand very quickly. Just be aware of how many people you bring and their specific personalities. If you really trust a certain friend's taste, then make sure to invite that person along.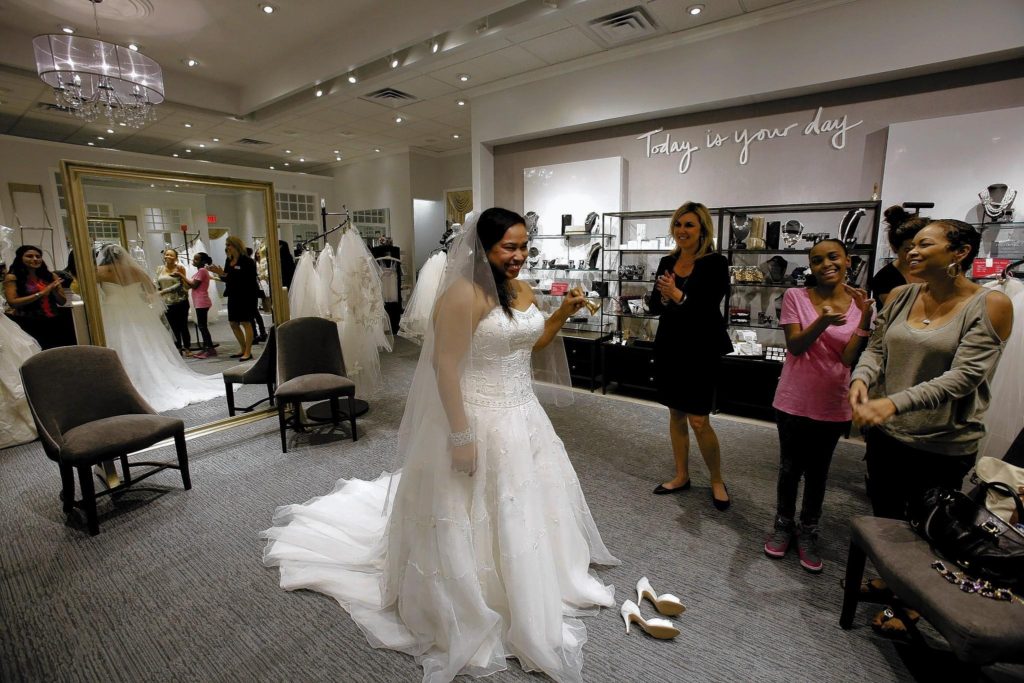 3. Do Your Homework Online First
There's so much information available online that it would be counterproductive to not do research ahead of time. By doing research for wedding dress shopping, you'll get a sense of what styles are trending, what styles are traditional, and what to avoid. You'll be better prepared for when you try on various dresses.
Doing research will also allow you to get an idea of prices. Perhaps you find a specific dress online for a better price than it is at the store. By simply knowing that there's a more affordable price, you can negotiate with the store owner or manager. You can also simply try the dress on, order it online, and have it altered later.
4. Set Yourself A Budget
This seems obvious, but it's worth pointing out anyway. Be cognizant of how much money you're able to realistically spend on your dress. There's no point in trying on multiple $10,000 dresses if you're only able to budget $3,000. Find yourself a wedding budget calculator and start the budgeting process.
Setting yourself a budget will save you a lot of time, and will make it easier to focus on what you can afford. You can also let the salesperson at each store know what you're looking to spend so that they can create a list of dresses you should focus on.
This goes back to the "research" portion of our blog post. By doing a little work ahead of time, you can get an idea of what various styles are going to cost you. From there you can figure out what you can spend. We do recommend that you leave yourself a cushion of a few hundred dollars in case there's a dress that just knocks you off your feet. This is a once-in-a-lifetime event, so it's understandable to splurge if a dress truly captures your heart.
5. Be Open-Minded
Unless you have a huge budget allotted for wedding dress shopping, you'll benefit from being open-minded during this experience. You may have a strict idea of what you want, only to see that a different style looks better on you.
Just because you know what you really want doesn't necessarily mean it'll be the best choice for you. Put some trust into your salesperson, as they help people select attire professionally. If the salesperson is making suggestions for a different style than what you want, give it a try. You never know what you will put on that will "wow" you.
Wedding Dress Shopping: Conclusion
There are thousands of options when it comes to wedding dress shopping. The most important thing you can do is to be knowledgeable, as well as have a budget in mind. The more knowledgeable you are, the easier the process should be for you and your family. Having an idea of pricing for various styles will guide you in the right direction and will help you to make the best choice.