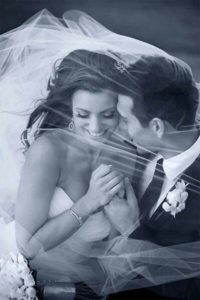 You will be glowing with love and excitement on your wedding day; Make sure you capture all of the genuine joy with amazing candid photos from your photographer. Candid photos are the natural shots that happen when you don't realize you're being photographed, and more often than not, they are more beautiful than all the pre-planned poses.
Designate Must-Haves Photos
When you talk to your wedding photographer before the big day and you're both planning out how the day will pan out, be sure to tell them of any must-have shots you want to see. While you can't plan every single moment of your wedding day and some things are sure to just happen on their own, it's good to prioritize some photo ops to ensure you get everything you want captured from your special day. You probably already know that you want shots of just you and your new spouse, as well as the bridal party and immediate family members. Knowing your must haves, your photographer will know when to be available for some pretty amazing candid moments. Some of the most beloved candid photos are of the private moment between the father and the bride right before they walk down the aisle, mothers trying not to cry, and brides laughing.
Consider Doing a "First Look"
All brides have an idea of how they want to present themselves to their partner. While there are many brides who want their big reveal at the aisle to be a surprise, some photographers suggest doing a "first look" between you and your soon-to-be hubby. This is when the bride and groom see each other for the first time right before the ceremony. While you may be forgoing the big surprise, you will get a very special moment together that will surely produce some incredibly emotional candid shots. Just picture the groom opening his eyes and seeing you right in front of him with no one else around, and his priceless reaction after.
Let Your Joy Shine Through
You're sure to be incredibly happy the entire day of your wedding, but it's important to consciously remember to smile for each special moment. Remember you are being photographed so when you walk down the aisle, don't look down at your feet and look at the camera and smile your heart out. You'll be glad you have these amazing moments captured that truly showcase the joy you're feeling inside.
Wait to Eat Until the Toasts Are Over
We know it may be tempting to dig into your delicious meal at your reception, but wait to eat until every toast is over with. This way, as a family member or friend gushes about your time together, a funny story, and how much they love you, you won't be captured with a mouth full of food. Hold off on dinner as you're sitting at your table so you are fully available to display your emotions during the speeches.
It will be a whirlwind on the day of your wedding, filled with happy tears, loud laughs, and ear-to-ear smiles. Be sure you capture each of those beautiful moments that you will cherish forever by following these tips and discussing them with your photographer.
And if you need a stunning backdrop to make your photos even more amazing , be sure to check out the lovely ceremony and reception venue at the Platinum Banquet Hall.