Do you want your wedding day to leave a long lasting impression on your guests? Looking for the best wedding entertainment ideas can be great fun. Besides having your traditional father-daughter dance or bride and groom first dance, wow your guests with the following unique ideas of entertainment for wedding events suggested by Platinum Banquet Hall.
Live Concert at Reception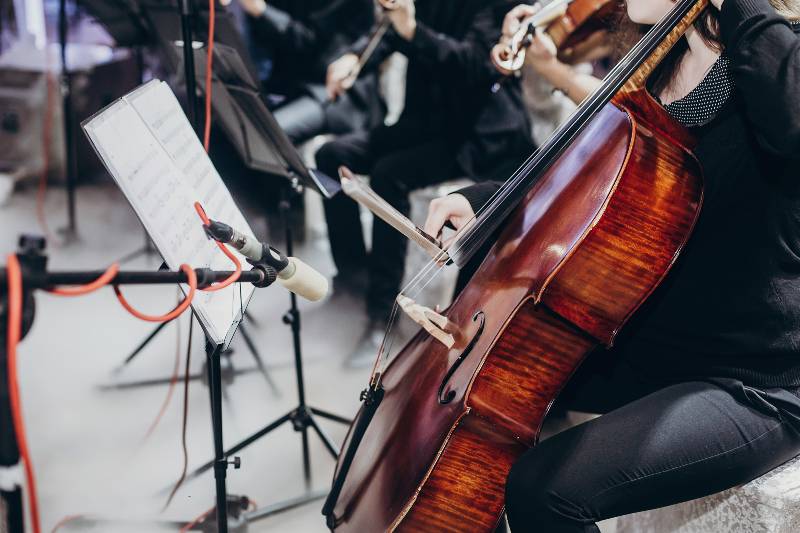 Music at your wedding can make or break the atmosphere. When searching for entertainers for weddings consider the option of a live performance by a professional singer, band, or DJ.
If you have ever attended a live concert, you can testify to the energy and excitement that fills the place when the live band, artist, or DJ is performing. So why not bring that same energy to your wedding reception.
Starting from the pre-reception to the last dance of the night, your DJ or music artists will help direct the flow of the your event. They will also make sure that the right music is played at the right time. Meanwhile, playing or singing your top favorite songs on your playlist when its most important.
Having live concert entertainers for a themed wedding can have a big impact on the vibe of the event. Whether guest are on the dance floor or singing along at their seats, the energy is will be contagious and everyone will have a smile on their face.
Booth for Fun Photos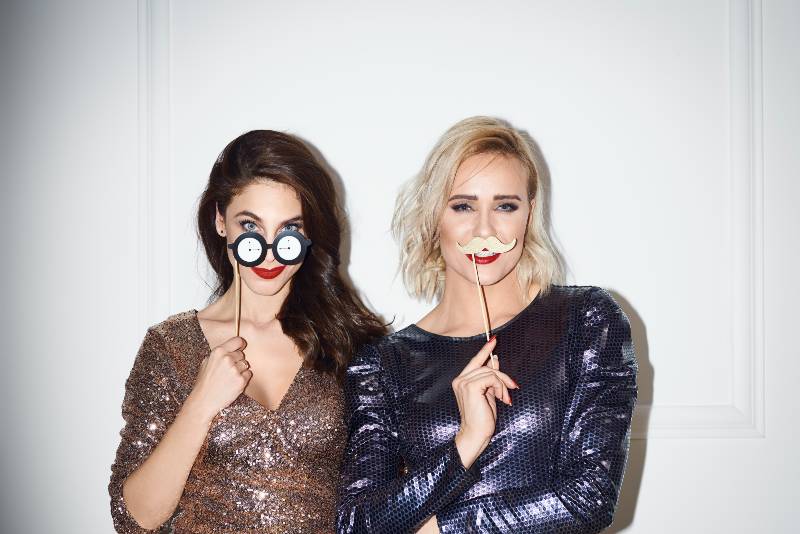 One of the most trending wedding reception entertainment ideas include setting up a photo booth. Photo booths capture memories in a special point of view of your wedding guests.
You will be creating a fun activity for your loved ones that will last all night. Photo booths create lots of happiness for both children and adults.
Lets be honest, none of your guests will be able to resist the photo booth and its cute little props. It will encourage guests to let loose at the reception with laughs and smile.
Some photo booth vendors will create a backdrop and supply the props or equipment. Be sure the whole setup compliments your wedding theme and decor. Locate your photo booth in a high-traffic area of the wedding venue. Therefore, it should look inviting, beautiful, and eye-catching.
If possible guests will be able to email themselves digital copies and share their unique photos on social media.
You can also maximize the use of the photo booth as a digital guest book by having an option for guests to record a short personalized video message for the bride and groom.
Photo booth's just emit this sense of joyful energy and reminds guest of being young, fun, and carefree. You truly can't go wrong by having a booth to take fun wedding photos on your special day. Plus, photo booth pictures make great cost effective wedding favors and keepsakes.
Live Wedding Painting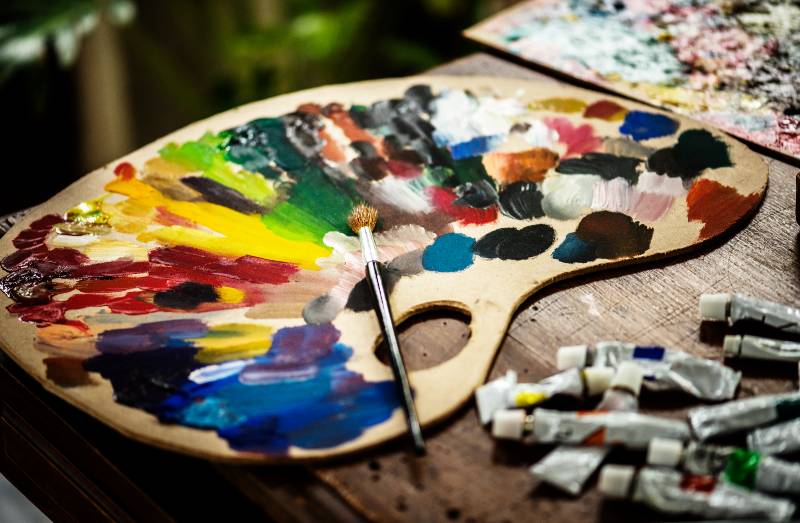 Make the happiest day of your life extra special by capturing it as a work of art. Therefore, one of the most unique wedding entertainment ideas would be to hire a live painter.
A wedding painting may be symbolics with the purpose of your wedding, which is forming and celebrating something that is everlasting.
All your guests will love to see the different stages of the painting as its is being developed. They will also become very happy when they begin to notice themselves on the canvas or other details such as the wedding cake.
You are encouraged to share any specific preferences or styles you are looking for in the painting prior to the wedding because very artist has their own artistic taste or expression.
For example, the painting can be seen as an abstract, impressionistic, realistic, or a combination of these styles. Take your time to look at the different themed live wedding paintings on Pinterest. It's important to determine how you want your painting to look and what specific moment you may want to consider having the painter capture on the canvas.
Some live painters also entertain guests by allowing them to contribute to the painting process through feedback or by letting them add a couple of brushstrokes here and there.
You can make this an even better interactive experience by setting up another blank canvas by the painter where any guests can add there expressions on the painting. Allowing your guests to paint a single canvas as a group effort is a fun way to keep the night going. You can even present the final pieces as a print out on the thank you cards.
Be sure to display your one of a kind painting in your home. It will truly be a fascinating conversation piece that will last for many years to come.
Professionals on Dance Floor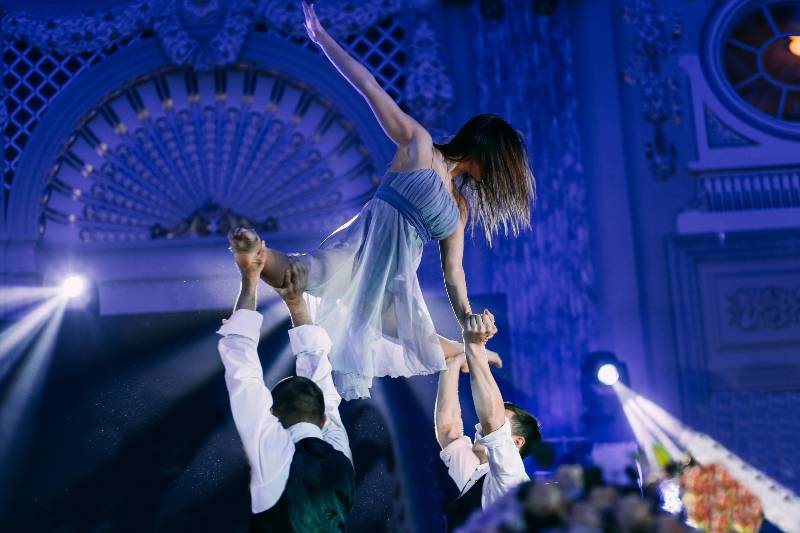 Whether you hire professional dancers for the cocktail hour or reception, your guests are sure to enjoy this distinctive take on entertainment for wedding guests. From ballerinas to belly dancers push toward offering your wedding guests with something fun and breathtaking.
Hiring a professional dancers creates a delightful party atmosphere and is also a clever ice-breaker. Many professional dancers are happy to invite your wedding guests onto the dance floor near the end of their performance and some even offer friendly basic steps to get everyone dancing.
Those who want to have their wedding receptions to be held in an expressive way may be able to do so by hiring cultural dancers. Incorporating cultural elements in a wedding is an important way to make it personal for you and your guest.
For example, couples looking to represent the Chinese cultural tradition can bring luck to your marriage by hiring colorful and dramatic lion dancers to perform for their guests.
Whatever style you chose, your family and friends will surely leave their tables with new inspiration and a big smile on their faces.
Choreographed Routine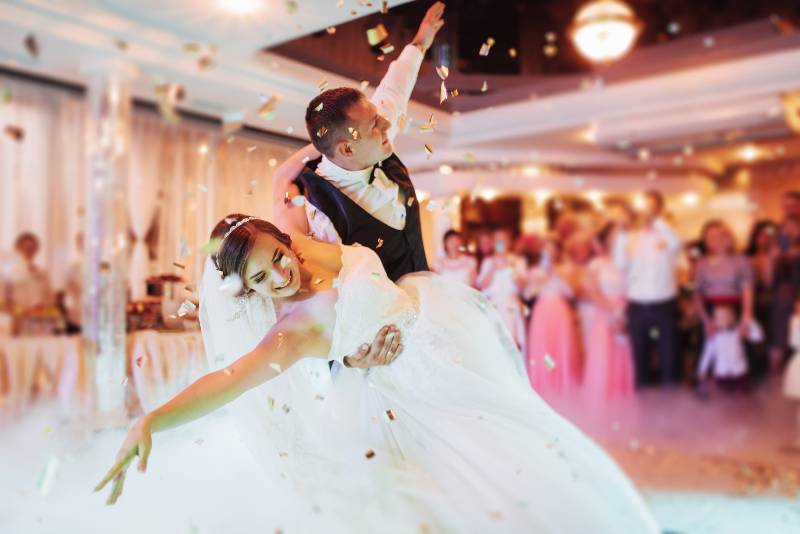 Shock your wedding guests with a full-on choreographed dance routine. Imaging a flash mob consisting of the bride, groom or members of their wedding party heading to the dance floor to do a choreographed dance routine. More and more couples are turning to a choreographed dance routine as a unique wedding entertainment idea for guests.
Some couple like to romantically go with the flow and others may think it will be so much fun and want to give everyone a good laugh. It all depends on your preference and what mood you want to set for your wedding reception.
Both bride and groom don't have to be professional dancers if they do decide to take this route. It will be a fantastic way to surprise your new talents to friends and family that know you're not the best dancer.
Keep it nice, simple, and easy to remember for those involved to have a great experience.
Remember, you're totally free to plan your wedding however you seem fit. Whether you are leaning towards alternative ideas of entertainment for wedding day or you decide to stick with traditional activities, consider hosting your event at Platinum Banquet Hall's lavish wedding venue. Whatever you consider to be the perfect wedding entertainment idea for your special day, we are surely able to accommodate to all your wedding planning needs and provide some wedding inspiration along the way.