One of the things couples love doing together after getting engaged is their wedding registry. There's just something about going around stores together with your soon-to-be-spouse with that scanner that's just so exciting! While you might not get everything you're tagging, it's a blast to imagine that you might!
But in the rush of scanning, there are some things that can be easily missed, or things that couples simply don't think about registering for until years later. (This goes especially if you're a young couple, or haven't already been living together.)
Here are some things that couples should consider registering for during their scan spree. And some of them are a whole lot more useful than that third type of blender!
Unique Dishes
It may seem unnecessary to register for salad plates, dessert bowls, and all the cutlery that goes with everything, but if not for your wedding, when? This is the time that you should get that one good set of all the dishes you'll need to entertain over the years. And show your taste! Many couples decide to go with classic white, but these will be your wedding dishes forever, so choose something you both like that you'll be proud to serve hundreds of meals on.
Practical Items
It sounds strange, but lots of couples get so dazzled by beautiful décor and fancy equipment during their wedding registry that they accidentally skip the basic, practical things. This includes items such as lamps, extension cords, toothbrush holders, trashcans, toasters, a shower curtain, etc. Be sure to make a list before you go into a store of what you don't already have, and include this when scanning.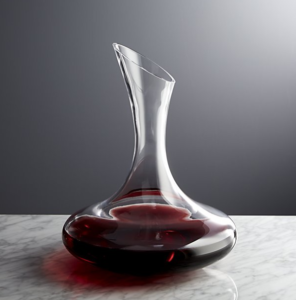 Bar Extras
Nearly every registry includes beer mugs, wine glasses, and cocktail glasses, but lots of couples overlook bar extras that complete a bar set, such as a wine decanter, tongs, a cocktail shaker, pitchers, and even something as simple as ice cube molds. And don't forget to register for extra wine glasses. These are always the first to get broken!
A Grill And Patio Furniture
Whether couples just don't think of this because it goes outside, or they find it too much of a pricey luxury, the wedding registry is the perfect time and place for a grill and patio furniture. This is especially important if you're a couple that loves to spend time outdoors and have cookouts. If you're worried about it being too expensive, several friends or family members can pitch in together. Your loved ones will want to get you something indulgent for your wedding. Plus, they'll probably be the ones helping you enjoy it!
A Great Vacuum Cleaner
It may sound boring, but you will definitely be glad you have it when it's needed! A bad vacuum cleaner just doesn't do the job. A good one can make your floors look a thousand times better in just a few minutes. Go for it on your wedding registry—you'll be glad you did.
Picture Frames
Nice picture frames can actually get quite expensive, and lots of couples don't want to splurge on something that seems so small. However, beautifully-framed photos can really bring a home together in an inviting way, and show off your gorgeous wedding day photos or family photos. This is definitely a smart item(s) to register for, since framed photos can help your home begin looking the way you want it to immediately.
Quality Luggage
As a couple, you'll be taking trips together—starting with your honeymoon, most likely! If you don't have your own luggage, you may have asked to borrow random pieces from others. Or, you may have your own old luggage that's been through some trips already. The wedding registry is a great time to take advantage of gift requests and ask for a beautiful new matching luggage set. It will be so nice as you embark on your first trip as husband and wife to have pretty, brand-new suitcases that are color coordinated. And if you travel for work frequently, the luggage will be an investment well worth it.
Amazing Sheets
Again, your wedding registry is a time to get the best of the best. Ask for top-of-the-line, comfy sheets to start your marriage off right. You can have them for years to come, and it's the sort of thing couples may not buy for themselves. It's also a good idea to register for extra sheets, pillows, pillow cases, and towels for guests who may be staying with you. Everyone registers for them, but sometimes they overlook registering for extra. Having extra towels that aren't mismatched will make you feel grown-up and married, as will having proper bedding for guests.
More great ideas for your wedding registry:
As you plan for your big day and get ready to create your wedding registry, don't forget about these often-overlooked items that you'll surely be glad you remembered. And if you're planning and looking for a great place to get married, take a look at Platinum Banquet Hall's photo gallery of our beautiful Los Angeles wedding venue!